2022 NITRO WOMEN'S SQUASH SPLITBOARD
---
There's no way around it, the Nitro Squash Splitboard is the most fun you can have in the backcountry. This board loves speed, and turning, and turning at speed - so much, in fact, that it's impossible to just putter around on. The Squash is a motivational speaker, a hype girl, a wild scream into the night. It's equipped with straight up camber, a stiffer directional flex, and that mellow swallowtail - all designed to increase velocity in every snow condition. But there's something else, a distinct set of characteristics this board has that just makes it rip. Snow-sliding charisma, maybe, something hard to define but undeniable in effect. This one is so good it'll have you hooting and hollering up the skin track.
Trüe Camber – Good old standard camber, which provides the stability and pop many shreds can't live without. The amount of snap and support you get from a cambered board is unrivaled by any other camber design.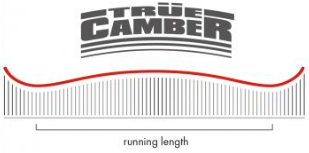 Flex
Directional All Terrain Flex – Nitro's most versatile flex pattern, combining their signature all mountain pop with smooth response, allowing you to tear up the entire mountain.
Flex Rating – 7 (1 Soft - 10 Stiff)
Shape
Progressive Sidecut – A larger radius in the front, blended into a tighter one towards the tail. The progressive sidecut makes accelerating out of turns a breeze, while maintaining a catch-free nose area.
Core
Powerlite Core – The highest grade of ultra-lightweight poplar wood in Nitro's Powerlite Core makes for the perfect ride with lots of pop and unmatched strength at a minimum weight.
Laminates
Bi-Lite Laminates – Nitro's rider-trusted Bi-Lite Laminates are engineered for a powerful riding style and a refined board-feel.
Base
Sintered Speed Formula HD Base – Nitro utilizes a new base material compound to achieve higher abrasion resistance, increased wax absorption, and higher on-snow speeds.
Additional Features
Forged T-7075 Aluminum Hooks
Nitro x Kohla Attachment System