2022 NITRO MERCY SNOWBOARD
---
Dubbed "the Freestyle Heiress", the Nitro Mercy Snowboard is for riders who don't really show tricks or obstacles any compassion. A centered twin stomp stick of the highest order, the Mercy is right at home being locked into presses, sliding rails, and generally dominating the park and streets. With its soft Urban flex, this is a board for late nights and late spins, for trying til you make it, and for riding away like a star. Strap into the Mercy and show them none!
Camber Profile

Cam-Out Camber – A classic camber shape with early and smooth transitions into tip and tail. The result is a fun and responsive board that turns on the spot and is forgiving, even after that 713.5° landing!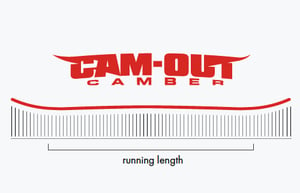 Flex
Flex Rating – 4 (1 Soft - 10 Stiff)
Urban – This ultra-flexible board can be tweaked any way you like, from rails to butter tricks, and it won't wash out on you.
Shape
Dual Degressive Sidecut – This sidecut blends a smaller radius in the center with two larger radii in the tip and tail, making it loose and playful. Nitro's most forgiving sidecut.
Core
Power Core II – A tip-to-tail poplar wood core with beech wood stringers offers unrivaled strength, smooth response, and insane snap.
Laminates
Bi-Lite Laminates – Nitro's rider-trusted Bi-Lite Laminates are engineered for a powerful riding style and a refined board-feel.
Sidewalls
Ureshred Sidewalls – Just like skate wheels and bushings, these sidewalls are made from polyurethane, which makes them highly resistant against impact and abrasion as well as giving them excellent dampening characteristics.
Base
Premium Extruded FH Base – Durability, speed, and low maintenance all in one ultra clear base material.
Edges
Rail Killer Edge X-2 – Your secret weapon for rails, rocks, and longevity! With its unique edge profile and an impact resistance of more than 200% compared to a standard edge, the Rail Killer Edge is twice as thick and twice as strong. This proprietary construction can take on any rail challenge. Take a file to them or ride them hard and wear them down naturally, this chunk of steel has enough meat for years of abuse.